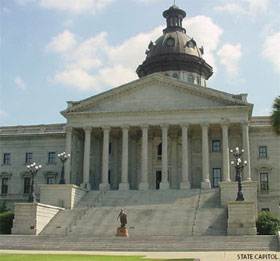 Many people seeking a new home in the South are torn between the beach and the mountains, but, when they visit Columbia, South Carolina, their decision becomes easier. That's because Columbia is situated in the middle of the Palmetto State, equally distant from the best of both worlds. Whether your mood is mountains or sea, you'll need to drive only about 100 miles to the east or the west.
In many cases, though, you'll find you won't want to take that 100-mile drive to the mountains or the shore because Columbia is an exciting, vibrant city located in the sand hills of South Carolina. The Palmetto State's capital city offers an array of cultural events at places such as the Koger Center and the South Carolina State Museum, and Nature lovers will enjoy visiting Riverbanks Zoo and Garden.
Downtown Columbia offers shopping and night life and is home to several institutions of higher learning, including the University of South Carolina, Columbia College, Allen University and Benedict College. The old train depot has been revitalized into an eclectic mix of shops and restaurants.
Columbia ranks as one of the best places in the country to retire
When the city was established by the General Assembly in 1786, it replaced Charleston as the capital. Columbia was a planned city from the beginning"the first in the state and second only to Savannah in the United States"and was laid out in city blocks within a two-mile by two-mile grid. By the mid-19th century, it was a modern center of commerce and the largest inland city in the Carolinas.
Columbia survived the Civil War unscathed until General William T. Sherman arrived in February 1865. His Union troops destroyed more than one-third of the city within 24 hours. Although much of the downtown area was in ruins after Sherman's march to the sea, some historic homes, such as Robert Mills House, remain.
According the Columbia Convention & Visitors Bureau, the city ranks as one of the best places in the country to retire, based on criteria such as climate, health care, safety and culture. Many retirees are military, having served at Fort Jackson at some point during their careers in the armed forces.
While many new residents choose to live on Columbia's tree-lined streets in older neighborhoods such as Rosewood or Shandon, others are drawn to more suburban developments along the area's many lakes.