Fort Mill, South Carolina, is more than just a rest stop along Interstate 77 between Rock Hill and the thriving financial metropolis of Charlotte, North Carolina.
The town of just over 10,000 people can boast of an interesting history, a famed favorite son, a thriving business climate and a water tank that, painted to look like a baseball, recently took second place in a national contest.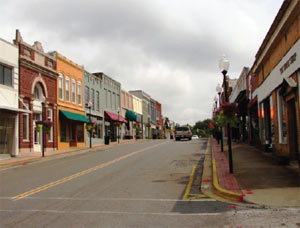 Fort Mill – west of Indian Land, SC – was named for a British fort and a grist mill on nearby Steele Creek. More than a century before the town was established in 1873, the area's first white settlers arrived and decided to stay. As the story goes, Thomas and Elizabeth Spratt were passing through what is now north central South Carolina. The Catawba Indians offered them some land and invited them to stick around. They did, and some of their descendants still call the Fort Mill area home.
Shortly before the end of the Civil War, in 1865, Jefferson Davis presided over the final meeting of the Confederate Cabinet in Fort Mill, at the White Homestead, while Davis and his cohorts were fleeing the Confederate capital of Richmond.
Elliott White Springs lived much of his life in Fort Mill, though he was born in Lancaster, about 30 miles to the southeast. Before his death in 1959, he would establish a legacy as a war hero, a writer and an industrialist. During his time as a World War I flying ace, he shot down between 11 and 16 enemy planes, depending on which account you choose to believe, and he later ran Springs Cotton Mills, at one time the world's largest producer of sheets and pillowcases.
Today, in addition to Springs Industries, several large businesses have a presence in the Fort Mill area, including Continental Tire and URS Corporation, and the town also hosts the headquarters of the Carolina Crown Drum and Bugle Corps.
And, of course, there's the water tank that looks like a baseball, possibly a nod to the AAA affiliate of the Chicago White Sox. Though they are known as the Charlotte Knights, they have been playing their home games at 10,002-seat Knights Stadium in Fort Mill since 1990.