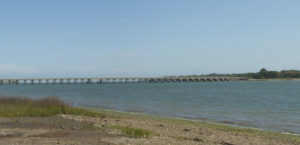 Life on gated Fripp Island is famously less busy than that on its flashier neighbor, Hilton Head. And most Fripp Islanders wouldn-t have it any other way.
"As Northern owners retire permanently to the island's warm climates, the year-round population should grow considerably."
The most seaward of the Carolina Sea Islands, Fripp is three miles long and nearly a mile wide at its broadest. Bordered to the north by Hunting Island, and to the south by the Pritchards Island Nature Conservancy, Fripp is secluded and not for everyone. Though charming Beaufort is only a short drive away, there-s not much to do on the island itself if you don-t feel like golfing, boating, or sunbathing. And yet, though nothing here compares to the rampant shopping and restauranting available on Hilton Head, for retirees seeking peace and quiet, the chance to live a Swiss Family Robinson with golf carts existence is hard to beat.
Fripp-s master plan calls for 2,200 units, including 500 multi-family units. Currently, only a little over a third of Fripp-s homeowners live on the island year-round, but as more Northern owners retire permanently to the island-s warm climes, this number should grow considerably.