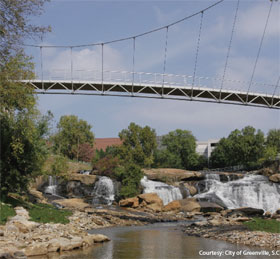 The city of Greenville traces its beginnings back to the site of a pre-Revolutionary War Indian trading post and mill run by Richard Pearis, who established his camp on Cherokee land. In addition to the trading post, Pearis built a house, smoke house, stables, dairy, blacksmith shop, sawmill, grist mill and slave quarters.
In 1797, Lemuel Alston purchased this land and obtained several surrounding tracts, totaling more than 11,000 acres, and established the village he called Pleasantburg. It wasn"t long before the name changed to Greeneville, but Alston"s dream of developing the land fell far short of his original plan. Though a log jail and courthouse were built, only a few lots were sold. Discouraged, Alston sold the land and his family home, Prospect Hill, to Vardry McBee of Lincolnton, North Carolina.
McBee, through a series of partnerships and business deals, grew the village to a town. Firmly established as a center of trade, Greenville became a resort for residents of Charleston escaping the malaria and heat of the coastal area.
" While Greenville is enjoying prosperity, there"s much more to the city than just business. "
Today, Greenville maintains its place as a center of trade. Located in the Piedmont section of South Carolina, in the foothills of the Blue Ridge Mountains, Greenville is on one of the nation"s busiest interstates, I-85, which connects the city to major metropolitan areas such as Atlanta and Charlotte. Many companies have headquarters or major presences in Greenville, including Bowater International, Ernst and Young, and IBM.
While Greenville is enjoying prosperity, there"s much more to the city than just business. It is also the cultural and entertainment center for the Upstate, as this area is known by the locals. The award-winning downtown area has been revitalized with new shops and restaurants. There is a major performing arts center, as well as an arena seating 17,000 and exhibition center. Greenville offers plenty of outdoor activity, with 39 parks and recreation areas, including Falls Park on the Reedy, downtown.