Heading north along welL-traveled Highway 17, as the bright lights of South Carolina's Grand Strand begin to dim, you will find Little River, once an important port city but now a small town striving to maintain its well-earned reputation as a quaint fishing village.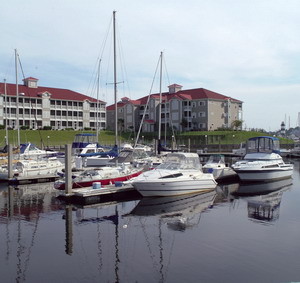 Tucked between North Myrtle Beach and the North Carolina line, Little River was among Horry County's first villages. It was a prosperous port prior to the Civil War, playing a key role in shipping lumber and naval stores to markets in the Northeast. The town's importance as a transportation hub didn't wane until the 1920s, when trucks and automobiles replaced seagoing vessels as the major method of moving people and goods up and down the East Coast.
Little River's colorful history includes a chapter on the pirates who took refuge in the small, protected harbor. Though many have searched for riches allegedly left behind by the likes of Blackbeard and Stede Bonnet, none have found evidence of their ill-begotten wealth.
Visitors to Little River find another form of gold: a peaceful village known for its fresh seafood, fishing charters, centuries-old live oak trees and annual celebrations. Each May, for example, the town attracts thousands of people and some of the nation's top artisans and entertainers for its Blue Crab Festival, one of South Carolina's most popular events. In the fall, the Little River Oktoberfest features food, music and entertainment for young, old and in-between.
The town's waterfront hosts the annual Little River Shrimp and Jazz Fest and, later in the year, the Little River Christmas Market. And on the Saturday after Thanksgiving, the Intracoastal Waterway Boat Parade gets underway in Little River and comes to a close in North Myrtle Beach.
Throughout the year, visitors and residents alike enjoy a wide array of nearby world-class golf courses, fishing excursions near the shore or in the deeper waters of the Gulf Stream, boating, Jet Skiing and trying their luck aboard casino gambling boats. And for those who occasionally prefer the neon, fast pace, night life and shopping that draws visitors from around the world to the Grand Strand, Myrtle Beach is just a short drive to the south.