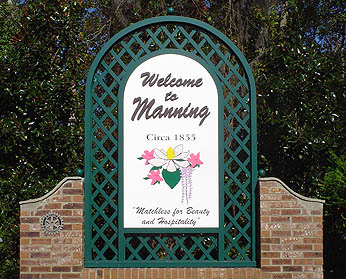 Centrally located in Clarendon County just off Interstate 95, Manning, South Carolina has a population slightly larger than 4,000 people.
What began in 1855 as 'the Village of Manning' it is now a great place to live while enjoying many recreational activities.
Lake Marion, nearby Manning, was created in the early 1940's by the Santee Cooper Project and it covers 110,000 acres of land in five South Carolina counties, including Clarendon. The lake is famous in the angler industry for its landlocked striped bass.
For over thirty years, Manning has hosted the annual Striped Bass Festival that draws visitors from all over the country.
Manning maintains its small town feel even in today's hectic world. In a monthly newsletter the mayor reminds the residents about the importance of public manners and public courtesy which continues the warm, southern hospitality ideology that the area has built a reputation upon.
Certain Saturdays throughout the year, the mayor will even meet with the citizens one-on-one to discuss important matters within the community.
For a little known town, it has several recognizable citizens to have their names in the spotlight.
Named for the former governor of the state, John Laurence Manning (1852-1854), the city has proven its resilience throughout history. Despite trying to save itself from destruction with an unlikely group of soldiers during the War Between the States, Manning became prey to the provisional division of 2,700 men led by Union Brigadier General Edward E. Potter in 1865.
What was to become known as 'Potter's Raid,' a large portion of the original town, including the court house was destroyed along with many other southern towns.
Two further tragedies struck the Manning area but were unable to destroy the peoples' spirit. In 1895 there was a downtown fire and in 1915 a tornado struck.
For a little known town, it has several recognizable citizens to have their names in the spotlight. Peggy Parish, the originating author of the highly successful Amelia Bedelia series of children's books, Rob Thomas, lead singer of the band Matchbox Twenty, several politicians and professional athletes have all called Manning home.
By Stacey E. Domingo