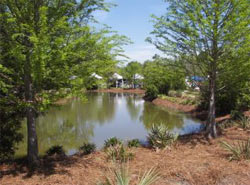 The town of Meggett, South Carolina – known as Meggetts in its earliest days – has been around a little more than a century. Granted a charter by the state in January 1905, it was something of a boomtown and was, in fact, the cabbage capital of the world.
The source of this prosperity was the rich soil on which the town is situated, coupled with a spur of the Atlantic Coast Line Railroad and a large wharf on Yonges Island. The primary crops were cabbage and potatoes. To better market their crops, a group of farmers banded together to form the South Carolina Produce Association. Shortly after World War I, the group built a brick office building to accommodate the office staff, which brokered deals nationwide using ticker tape and the telephone lines.
At this time, Meggett was the hub of the area including the communities of Yonges Island, Ravenel, Adams Run and what eventually would become Hollywood. The telephone operator, who was known familiarly as "Central," managed the system from a two-story wing at the rear of the Produce Association building. Party lines were the order of the day. A librarian was also quartered in the same building.
The Exchange Bank was established by Charles Walker Geraty during Meggett's heyday for two reasons: There was no bank and to occupy his wife, Bessie, who was grieving the loss of a child. The Geratys operated the Exchange Bank, which was housed inside the Produce Association, for 30 years before merging with a bank chain in the 1950s.
" Excitement came again to Meggett during the 1980s, when the town became the backdrop for the made-for-TV movie, 'Queen,' the sequel to 'Roots.' "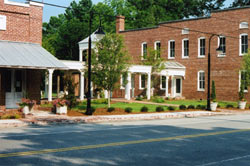 The Produce Association lasted only until the mid-1930s, but the town prospered until the 1960s. The train brought passengers and mail to Meggett twice daily and picked up produce from the shed across the street. Business people and dove hunters took rooms at the local boarding house, which still stands today.
Excitement came again to Meggett during the 1980s, when the town became the backdrop for the made-for-TV movie, "Queen," the sequel to "Roots."
Though quieter, Meggett remains a wonderful place to live, combining the best of two worlds: the peace of rural living with the big-city conveniences of nearby Charleston. To honor its prosperous past, the Meggett 1925 project aims to restore the look of the town in 1925. Part of the Streetscaping stage included the restoration of the SCPA building, which now offers a community room that is used for town council meetings and is available for other functions such as weddings.
Funds were raised through memberships and the purchase of engraved brick pavers which line the new Pavilion Walkway. New sidewalks and street lights were installed and a park and pond were added across from town hall.