Del Webb at Cane Bay Homes for Sale
Most retirees dream of having fun and living a full life, and, despite the uncertain economic climate, they can do just that at Del Webb at Cane Bay Plantation, a gated community not far from Charleston and even closer to the smaller but growing town of Summerville, South Carolina.
"There are always activities to do and friendly people," explained Debra Whitfield, a Realtor and seniors real estate specialist with Coldwell Banker United. "Individuals are moving into a community with other like-minded people who are relocating from other parts of the country. The transition is easy, and it's a great place to meet new friends."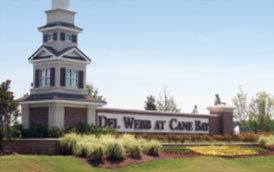 Whitfield, the top resale listing agent for Del Webb at Cane Bay Plantation, has worked with buyers since the beginning in 2007.
"I was there in the early stages and eventually started working with some sellers as well, starting in 2009," she pointed out.
Approximately 500 homes are sold or under contract in the 360- acre retirement community, and construction is scheduled to begin on another 500 in 2012. It isn't difficult to attract seniors to the South Carolina Lowcountry, which, in addition to magnificent weather, offers a wide range of cultural and entertainment activities. The area's top-notch medical facilities also are important.
"We have one of the top VA Hospitals in the country, as well as the Medical University of South Carolina, which is one of the finest teaching hospitals in the country," said Whitfield. "Our care is comparable to any other major metropolitan area."
Residents of Del Webb at Cane Bay Plantation are entitled to a membership at a 20,000-square-foot amenities center better known as the "the resort." It includes a state-of-the-art fitness center with a personalized trainer, an outdoor saltwater pool and hot tub, an indoor saltwater pool and hot tub, an arts and crafts room, a meeting room, a computer lab and an outdoor fire pit.
Starting prices for two- and three-bedroom homes from 1,244 to 2,722 square feet range from $149,990 to $253,990.
"Moving to Del Webb at Cane Bay Plantation is like living on a cruise ship," said Whitfield, who speaks on housing issues for the South Carolina Aging In Place Coalition and has repeatedly earned honors as a top producer in the Charleston area. "I know about retirement living, and there is always something to do at Del Webb. You can choose as much or as little as you want."