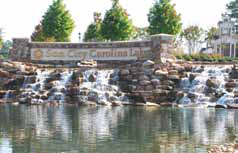 Only a short distance from the Charlotte metropolitan area and just eight miles from the North Carolina border, Sun City Carolina Lakes is a remarkable Del Webb retirement community with a 40,000-square-foot recreation center that overlooks a sparkling lake and includes a state-of-the-art fitness center. Del Webb and Pulte Homes are known across the country for building quality homes that appeal to those in the 55+ age group.
"Sun City Carolina Lakes is like moving to a resort," said Laura Pogue, a Realtor with Century 21 First Choice in Fort Mill, South Carolina. "It's a healthy real estate community. We haven't seen the foreclosures as in other parts of the country. New construction and resales have been great."
Sales have been so good that a second amenities building is in the works in 2012.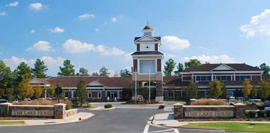 "The project will serve the more than 100 clubs we have here at Sun City Carolina Lakes," said Dennis McGarvey, community manager for Wentworth Management.
Villas are available beginning at 1,400-square feet, while larger carriage homes start at 1,800-square feet. Pricing for resales ranges from $190,000 to $450,000. Currently, 2,122 single-family homes are occupied or under contract. The community's capacity is around 3,400 homes.
"We have one of the best-managed properties in the Southeast. It's a beautiful community backed by Pulte Homes and is the fastest selling community in the Pulte portfolio," said McGarvey, who works on-site. "Our location is great. We are within 30 minutes of Charlotte, far enough away from traffic and noise but close enough to travel into the city."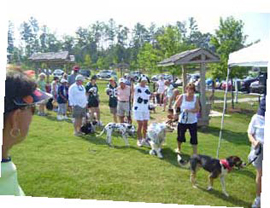 Pogue, who is also a resident, explained that "you can get a lot more with purchasing a resale these days because what was once a standard feature is now considered an upgrade. The base purchase price has been lowered, with fewer standard features, so, in many cases, you are paying more for the add-ons."
Resales are available for occupancy sooner; it takes around 100 days to build a new home.
When Sun City Carolina Lakes first opened in 2007, some of the standard features included granite, refrigerators and garage door openers. Many of the original homeowners have added other features, such as window treatments, ceiling fans, landscaping, irrigation and security systems. In addition, the homes that were built first are located near the amenities center. And if you want a basement, you'll have to purchase a resale; the lots now available can't accommodate one.
"We at Team Pogue would like for people considering Sun City Carolina Lakes to preview both new and resales so that they can make an informed decision," Pogue commented.
Among the most anticipated community activities is the annual Fourth of July Golf Cart Parade, where residents compete for prizes by decorating their golf carts. Carts are ubiquitous the rest of the year, many of them highlighting their owners' favorite sports teams or boasting about their grandchildren.
Sun City Carolina Lakes offers a host of activities for residents, from cards to drama. Social events and gatherings keep residents as busy as they want to be.
"There are some residents who wish not to get involved, but most do. We have many events, like a huge New Year's eve celebration. Even presidential candidates speak here because they want our residents' votes," said McGarvey.
Lush green forests of pine, maple, oak and purple plum trees, along with 12 lakes and ponds, provide the backdrop to these beautiful 1,512-acres of land. The 18-hole Carolina Lakes Golf Course meanders through the community.
There are eight water-cooled tennis courts, four boccie courts, four pickle ball courts, horseshoe pits, badminton courts, community gardens, a dog park, a woodworkers shop, an outdoor pool, an amenity lawn and a boardwalk along the wetlands, with miles of walking trails.
The Lake House is the heart of the community, housing the fitness center, aerobics studio, indoor lap pool, indoor walking track, ballroom, demonstration kitchen, billiards room, pottery studio, library and computer room, craft rooms and numerous classrooms.
By Stacey E. Domingo